Back to the Home Page
Back to the Index
---

Mallorca during November
17.11.-1.12.02
Sunday
Why are we going to Mallorca in the late November? It's a story which should be told at another day. We had to part with our little dog Lotta and that hurts a lot.
To think about other things the best way is to look for a tourist agency and ask for a snip. We find one and this is 399 EUR for two weeks at Paguera Hotel San Valentin. We never had such a cheap holidays. We book at Wednesday and fly on the following Sunday, a fast thing.
At 7 am we hang around at the airport of Hannover. We watch a beer-drinking individual as he tries to get in contact with a woman and her baby. He would be an experienced air passenger, he caws. But the woman replies: "Please get away, I ami certainly not interested in that". This works. And then she says to her baby (about three months old): "But we are experienced air passengers as well, tu tu tu". So time goes by until we enter the airplane.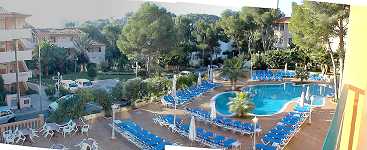 During the flight we see the Alps, Rhone Delta and the Pyrenees, finally we are above the northern coast of Mallorca. "There is definitively Andraitx" I say due to my excellent geographical knowledge. But may be it is definitively Pollenca. If you have arrived at the airport you have not yet really arrived. At first you must overcome a long long conveyer band, turn by 90 deg. and step over to the next long long band and so on until you nearly have moved in a circle.
Finally there is a big hall with cadboard settings of a medieval and rural spanish village. May be we soon will have Christmas... We get our luggage and then are introduced to the shuttle bus to Paguera. There are 6 additional passengers. At Paguera we use the new tunnel and get to Camp de Mar (golf course, 18-holes, very difficult, par 5). The first guests leave the bus, whatever they want to do here. And then we come to our hotel Valentin Paguera. Our first hotel from 1993 at that times was named Paguera and this is today Valentin Park. So times have changed and the properties as well. They have built lots of new buildings and our palm tree with the spadows has disappeared.
The promenade at the sea was established in 1995. The palm trees may have grown in the sand since that time. You can stroll along there and we will do this every evening for the next two weeks to bridge the time until the buffet date. Today at the first day we need a dinner and choose the Cafe Epia Sta. Margarita at the main street - now the boulevard since it is nearly traffic free. We get a Ai-Oli and find out that this is a cream with mayonnaise with bread. Tastes well. The loin steaks are delicious as well. The drink (Cola) is the most expensive stuff.

(I once got an Email from a restaurant of Bernis, but at first we didn't find it and then it seems to be abandoned.)
In the afternoon we enjoy some sunshine at the pool. But about 4 pm it gets too cold and we must warm up. We have another problem with a clavus (Hühnerauge). It is Sunday today and no medical support available. So we are content with the acquirement of some soft leather bedroom slipppers.
At 7 pm the diner buffet starts. We get table number 60 and meet a couple there who are somewhat shortspoken at first. They come from Weimar and the ice is broken as we tell, that we once have visited the Zwiebelmarkt (Onion Market) there. Besides that the buffet is excellent, better than ever. The soups are well tasting but sometimes look somewhat mysterious, especially a grey soup of fish.. There are three different warm dishes and various salads. And then the dessert: vegetables, pudding and ice, all with cream. So our companions soon depart as they see the heaps on our plates. But we have come to gain weight and have no problems with the belly or waistline.
Unfortunately there is a TV at our room so we must watch Tatort (Sites of Crime) or Barbara Wood or the best of all: Rosamunde Pilcher. Sometimes one can sit at the balcony instead and read a book. On the other hand there is the obligatory aggregate with a swoosh.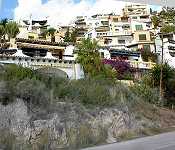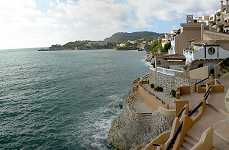 Monday
Yesterday at the buffet some people peered weird at the soft leather bedroom slippers. So today we must buy some golden sandals, where the straps miss the toe with the clavus by some millimeters. Now there is a medical center and we get a date for the next day. So no mountain climbing today! We walk to the Hapimag reception to get the well known hiking guide. There is a new one available and this is - as the former ones - useless.
On the way back we enter this and that exclusive hotel (Milamil, Beverly Playa, Palmira Cormoran...) and ask for prospects or flyers or "What's about the weather?" So no one gets aware that we are just prying outlaws.
In the afternoon we do nothing except some trembling at the pool or on the balcony...
Tuesday
11.15 am there is the date for the clavus activity. This should last for half an hour and so long I sit at the beach and twinkling watch some surfers without waves or an enervated father struggling with his baby. Then Heidi appears like the personalized Pas de Deux.
Now we wander to the Cala Fornells, once again impressive with the wrinkled architecture. Unfortunately they have continued the constructive activities at the end of the bay. But there is nothing to be seen of any esthetic efforts. They have learned nothing of successful attempts, but may be this would be too expensive.
The small piece of beach where we had our bath in 1995 (7 years ago) is under water. But it is not because the polar caps have meldet and the level of the sea has rised. It is due to the wind which blows from the seaside. We climb up to the Hotel Coronado and open a door into the garden. At once a service maid of the hotel comes up and cries "Privado". This hotel is as well closed at this time. We go back and skip the march to the Cala Munjo nearby.
And then I realize: the sun is shining and the pool is calling. We look for a place where the sun will shine as long as possible but do not account for a fan palm tree which keeps the sun away for a while. But at last we have won 5 minutes. Thereafter the balcony is much more comfortable and warm. Heidi reads a book about a love story at Mallorca. Let's hope it helps. I read "Philippe Djian - Schwarze Tage, weiße Nächte" (Vers chez les blancs) and hope, that no one can read at least from my head what I am just reading. If a book is finished we have a special magazine and brochure market. The booklets are deposited at any table at the hotel floors and for one's own demand let's look what is there already. And this works very well.
At last we have a walk into the botany outside of the town were the wilderness soon begins. Thereafter we try the indoor swimming pool with a water of 28 deg C. At every half hour a whirlpool is in action and the kiddies enjoy this and yell. It is more difficult to swim for there are obstacles in all directions. But Heidi manages to swim 50 or so lanes. I cannot handle such large numbers. May be this is because I have forgotten today our 30th jubilee of our engagement.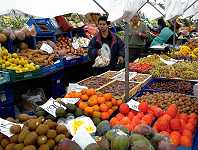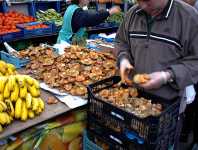 Wednesday
This is the market day in Andraitx. There is a shuttle by the hotel for 5 EUR, the public bus costs 1 EUR. Our companions from Weimar come with us to the bus station. We know a "secret" bus station at the Hotel Palmira Cormoran. But the bus is 20 minutes too late and in consequence passes the next stop without stop. The waiting passengers look stupid there...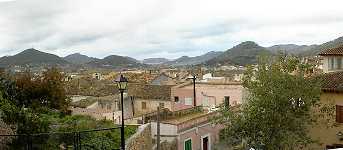 At the market we look for a wrist watch. Soon we are involved in a bargain discussion. A nice clock for 35 EUR? We write 20 on a piece of paper. The market-woman paints 30 and finally we 25. This seems to be convenient though the woman behaves as if the world will perish.
Two booths later I make a new attempt - just for fun - Heidi is ahead already. This time they offer a watch for 30. I write 10. And that's it, no other bid should worry me. I turn away to leave and - guess - I get the clock for 10 EUR. "Now you have two clocks" I say to Heidi, who had wondered what I was doing there.
(Later we realize, that the "cheap" clock does not work at all. The other one was to expensive as well, but we had the fun...).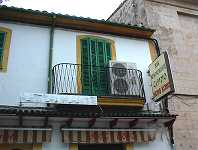 After this kind of flee market we enter the meat, fish, fruit, vegetable and spice market. The locals are preferred here, the tourists sometimes wait for their single orange for a while.
We climb up to the church which is closed. A member of a bus tour toddles around and asks for sightseeing places. We are experts of course and advise the cemetery. But where is this to be found? We walk around for a while and then find it up the hill. At the left there is a new construction area for new apartements for future inhabitants. This looks not so picturesque as the older part of the graveyard. The collegue from the bus is quite happy, that he could see all this and we are proud that we have given him the hint. And really if you stand in front of an open burial chamber it is rather spooky.
We now look for a foot path to Porto Andraitx. We read a sign "Peatons Port" but do not know the meaning of this. So we ask this and that local using hands and feet. Heidi soon believes to speak a fairish Spanish - by hands and feet. Finally we find the right route along the sports area.
On the way we find a tree with bursted pomegranates, some almonds for the pockets but no oranges or lemmons. This should have been stolen and we do not do this. We like the way though a light drizzle comes up. There are nice estates, sometimes Germans. To pay one of these you could live in a hotel for the rest of your life, that's what we calculate.
Near Porto there are some old wells integrated in the apartement arrangement. But they are dummies just for phantasy. At Porto we are cold from the wind and drizzle. It is to be read, that meanwhile some rich prominents have their domiciles here, we will discuss later about it. Less prominent: a cormorant at the harbour with open wings among ducks and seagulls. Another cormorant busily dives around, these cannot be shy as we always were believing.
There is an original cafe to warm up with a cappuccino. From here we can observe the bus stop, some figures jump from one leg to the other there. The say, it is optional at what times the busses will go. So we are in luck, we have not to wait and jump from one leg to the other so long. On the ride we see our friends from Weimar as they walk along the street. Later they will tell us, that they have found themselves inside the gulf course (18 holes, very difficult). Another German fellow has shouted "Scheiß Ossis" at them, which is not to be translated (your corresponding Englisch term starts with f...).
Back in the hotel we warm up in the 28 deg waters of the swimming hall and are lazy for the rest of the day.
Thursday
On the streets they hand out special flyers for round trips on the island, e.g. Toscana Reisen: Big Round Tour, Passage with the Historic Train to Soller, Boat Trip to the Callobra and Bus Tour on the wrinkled mountainroad. That's it. More for me than my wife, but wait some time, there will be an advertising event as well... We pay 14 EUR each and this is a much lower price than that offered by the official travel agencies. But it will end much more expensive...
It is raining today and therefore a lot of guests decide to spend the day this way. But we are lucky to get hold of the panorama seats just behind the driver. His name is Miguel and the tour guide is Helga from Rosenheim. She has spent 17 years at Mallorca until now. We start to speculate: do we know this Helga from 1993? But then I had written Erika, but from Rosenheim as well. May be I was wrong, so we decide Helga to be the same as Erika. We remember the unforgettable story of "Bedding Dieter" and the lot of fun we had at that time. But Helga will not remember, there are too many folks over the years.
We pass the so called spooky quarter of Palma where there is: the hospital, the madhouse, the prison, and the cemetery. We come to IKEA to join with another bus. Then we go north near Sa Pobla and pass the most fertile agricultural areas of the island. They have three crops of potatoes over a year and ripe strawberries are available all over the year. Most of the former picturesque wind wheels for the irrigation unfortunately are in decay. There are certain financial aid programs to save and restaurate the last wind wheels - you see a lot of them near the airport of Palma.
Finally we reach the Finca Amorini and a friendly gentleman is waiting for us. His name is A. Rost which means rust in German. In cosequence he sells stainless steel cooking pots. We enter a presentation room and then get a fully professional
firework about food and health and health and food and all this in combination with his cooking pots. Who never heard about these pots should believe that he missed some considerable part of his life. So it is not amzing that there is some success of this advertising event. If one orders a set of pots he gains a knifebox, a paste to clean chroma materials, a microfiber cloth and a tool to turn the meat (spit-roaster, Bratenwender). Soon there will be Christmas....Thereafter we get a cheese- or bacon-plate and after this is consumed we can continue, since the main tour has not begun yet.
We have some rain and go to Bunyola to wait for the "Red Flash", the historic train from Palma to Soller. For half an hour the train passes the mountains, mostly underneath, the longest tunnel is 2,8 km. Outside the trees with ripe oranges glide along. But one should keep his arms inside not to loose them. At Soller we leave the train and enter the bus to go to Porto Soller. From there we will go by ship to the bay of Calobra. The first passengers resign to share this adventure because they are landlubbers. And we have some doubts about the disembarking and the rough sea. We get more doubts, as we see the boat returning from Sa Calobra. The people are pale and one hangs at the rail and feeds the fishes. Some people adjust each other to get from board.
In spite of this all we enter the ship and soon detect the puked planks and banks. So we start into an unknown fate. After leaving the shelter of the harbour the ship starts to roll and lurch in amplitudes of several meters. An elder lady of 80 years
happily cheers. But the ship must turn about and we soon reach the harbour again. So this was a short pleasure but later we hear that there were 80% seasick of the predecessors.
We enter a cafe at the port. A gentleman purchases a piece of cake and has to pay 5 EUR so he looks stupid. As we come back to the bus the older cheering lady looks for a WC but cannot find one. So she must disappear behind some bushes. As usual the people ask afterwards "You were successful?". "Yes at tree number 7" she says "And a man was nearby".
We ride on the coastal road towards Valdemossa. This is narrow with many bends. At the hairpin bends the driver must be very careful if another vehicle comes from ahead. Meanwhile we hear the old stories of Michael Douglas, who married a Mallorquin, of Hotel Paradiso (a TV soap), Sissi (Elisabeth von Österreich), Chopin and George Sand (Winter in Majorca). And about the "Ballermann" (drinker paradise at El Arenal). Most stories of this scene should be phantasy, the TV-teams hire some guys and then produce such kind of reportage. So it is said but can we trust in it? As well a German popsinger has given the name "King of Mallorca" to himself and therefore the Mallorquin are very angry about this.
We pass the artist's village Deja. There is no room to park the bus.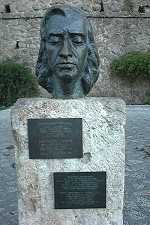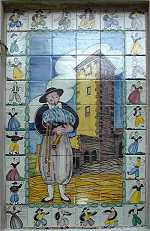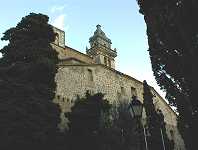 So we ride to Valdemossa. There we can walk in the garden of the cloister. A sightseeing of the inside should not be so interesting, some old pianos or so. The town is nice but rather touristic. So our nice tour soon ends. On the way back one can buy this miracolous Hjerbas oil, against afflictions of all kinds. 1 EUR is for the driver, he got to be father of a son recently and now permanently stays at his mobile telephone.

---
Chapter 2
Back to the Home Page
Back to the Index