Back to the Home Page
Back to the Index
---
Friday
In the morning we walk up to the supermarket and the "Garden Center" as it is called in good Spanish language. You can find various exotic plants there, which are bought by the proud owners of any estate or garden as a status symbol. A somewhat higher palm tree costs 220.000 Pesetas (1.322 EUR). There are nice bougainvilleas and orchids in full blossom. Heidi is looking for offshoots (Ableger) - as usual. Soon we get a ghostlike overseer strolling suspiciously a short distance behind us.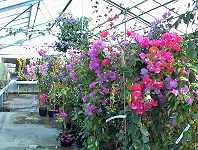 We continue our walk via Cala Fornells, the upper district named Monte Fornells. At a new built house a couple comes out of the information bureau. "What's about the price for a freehold flat?". They say: 275.000 EUR for two rooms and kitchen, 70 qm. So we decide, that we cannot utilise such an investment until the end of our life. At the end of the street we find the stairs leading back to the city.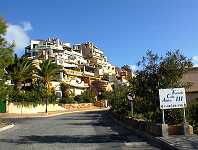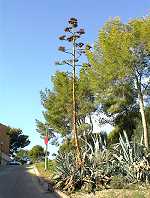 Heidi makes herself comfortable at the pool. I will start my first adventure, which will be an attempt to climb the nearby mountain Moleta de son Vic. The only route to get there is the "lost pass Fortuny" (as it is called by Herbert Heinrich). The pass is near the new tunnel of the bypass road. I walk up the road behind the former Hotel Paguera, now Valentin Park. At a gate I turn into the wood. Soon the path ends at a fence and there is no gap or hole anywhere. Along the fence I come to an underpass, but this is full of mud. On the other side there is the Finca Paguera and this should be respected as private area. So I have done some cross country hiking when I return to the previous start at the gate.
So we must choose another direction and this is somewhat higher and more left at the slope. There is a wide path which ends finally. Now there are heaps of stones now and then which mark the route to any destination. And then I detect the historic pavement of the early passroad. This is a happy event, and as I am so glad about it I find myself at the next fence. Behind the fence it looks like a private construction site and I don't dare to cross the border (in fact there is a public water reservoir, the fence is broken down nearby and this point is just the Pass Fortuny - this all is unknown to me at the moment).

I retreat and soon cross to a path high above Paguera just beneath the Sa Bruta, the landmark mountain of the town. I pass a burnt part of the forest, and now and then there are nice views below. The end is at the housing estate Monte Esmeralda. In the wood there is a simple tube of stone wich is an old cistern. Nowadays this is full of litter. But then we have a tarmack road under our feet and feel to be back in the civilized world. I did not meet any single person all the time. May be the often quoted "Alternative Mallorca" begins just behind the last house?
Saturday
Today we go to Palma. The route is known meanwhile. Today we watch the luxus liners and motor yachts at the harbour of Palma. They are named Lady Moura, Elegance or Blue Star. The Lady Moura is said to be owned by an oilsheik. In the streets of palma we stroll around and look for an information bureau to get a city map. At the cathedral we study the entrance fee. But this is 3.50 EUR each and we resign. And we read "Cathedral Claustro" an translate this as "Cathedral closed" but of course the correct meaning is "Cathedral Monastery".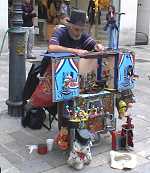 But we have our fun outside. There is someone like a pantomime without any motion in a silver suit of armor. If you spend an EUR you can make a photo with him. May be he has a good hourly rate. A green suited collegue stands as well without any motion in front of a bush. But there is no contrast and he is nearly not to be seen.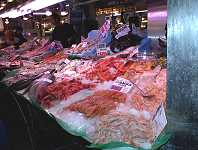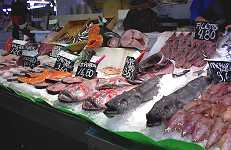 Meanwhile we know where to find the market hall. This is near the bus station, where we will return and this is advantageous. We think that the market hall wih all it's business is the most interesting observation until now. Especially the mushrooms are weird. We find some special species which costs 360 EUR the kilo (Colmenillas, Morcheln). Funny are the fish booths, some fishes have strange looking faces.
We return by bus which is on time for now. In the afternoon we inspect some unknown streets of Paguera with the names Mallorca, Val Verda or Capdines. And we end at the promenade at last...
Sunday
Today is a rest day after all. We stroll at the beach and watch a cormorant which seems to be bigger with a white breast. We ask an angler in broken German like "That cormorant?". And he answers in fluent German: "Yes, they catch such eals, these and those, thin ones and fats". So we are informed now.
In the afternoon there is storm and rain, the poolchairs fly for their own. We hear the news and in Italy there are some catastrophal floods after some days of pouring rain. And Italy is not so far from Mallorca...
But the summertime this year was much rain. So the vegetation is not so dry and brown as usually in the autumn. It is quite green and much nicer than the grey colours during November at home.
Monday
Today there is a "Hjerbas-Tour" which is free at all. The couple of Weimar will come with us. Moreover a smart young gentleman from Berlin named Peter. He is very friendly and talks to everyone. We are picked up by a bus and the leader Udo from Soest. He is engaged to this job since decades, as he says. It is raining again, so we are glad to spend the day by this activity.
This Udo from Soest is very funny. After a joke he laughs himself and this is very virulent. As we see a cloister on a hill he says: "It's a pity, at this weather we cannot see the monks as they do their paragliding with their cowls (Kutte)". And then he laughs again. And the whole bus does. When the sheep have a red spot on their wool - this would be paprika for better taste later on. And why the cables at the power poles are sagging (durchhängend)? Because the power poles grow all the time in this fertile soil. But people cannot hang their laundry pieces at the cables. Because the pegs (Klammern) jump away all the time.
And so on and so on. Laughing finally hurts. But then near Montuiri or so we are thrown into a jewel factory. And now be careful: the retired people throw out their old-age pension that your eyes get dry. Our Peter buys a tiny silver chain for an amulet which he got from Firence. I keep an eye on my wife all the time...
The continuation along small roads leads through picturesque villages, unfortunately we have a steady rain. The second destination is the town of Inca and the Fabrica Paco Llabres: leather articles. I must buy a new belt, may be the daily evening buffet shows some consequences? Heidi falls in love with a leathercoat and fur inside, but this will be 2000 EUR and nothing to walk around in our rural village at home.
But the psychology of these events is very clever. We have our holidays, Pa is at hand an Mum would like this and that so much. It perfectly works.
No more activities today: rain.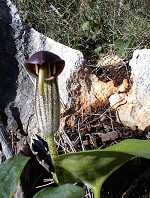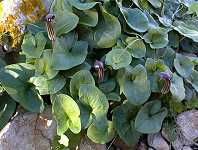 Thursday
The sun has come back. I will do my next walk to the Cala Munjo (Monk's Bay). It is 30 minutes walk. We have a very scenic bay with wild cliffs, nothing has changed since 1993 when I was here for the first time. They say a German has owned this area but the story about this matter is mysterious and I cannot tell more about it.
From the Cala Monjo there is a steep path up to Cap Andritxoll. There are the heaps of stones for orientation again. At the top there is a fine path on the ridge. But what is this: just across the winding path they savagely have built an ugly wire fence. This story is known: one half of this peninsula is owned by a famous German model. You can read a signpost for protest: "Claudia tu PriSSion". Another protest has come from the walkers, they have run down the fence where it crosses the path. This seems to be OK, because the area down the slope would be too dangerous anyway and you easily would fall down the steep cliffs. So let us invite everybody: do a walk to Claudia's back garden. Why should she bother about that?

I go forward until the Cap where the path ends. I can take a nice panoramaphoto at this point. Another hiking couple comes up. "Oh, how beautiful" etc. The way back is easy to find: along the fence all the time. Claudia even has bought the old watch tower. This was built to watch approaching pirates and to warn the locals. Will Claudia do this job for now?
At the ground I see special flowers all the time. It is named Krummstab ( Friar's Cowl, Arisarum Vulgare). I take one of the blossoms with me to bring it home. At last wide paths lead back to Cala Fornells. When I return at the pool my feet hurt a little bit and I tell the story of my tour. Around us are lots of Englishmen who won't understand anything of my talk. (So now it is translated).
Wednesday
It is sunny again and I start for the final ultimative tour: the attempt to climb the mountain - or let's say hill - Moleta de son Vic (349 m). I got wise and now start via the Esmeralda. A side trip to the Sa Bruta fails among steep cliffs.
But soon I reach the Pass Fortuny where I was some days ago. Just now a couple comes along and crosses the fence. "You want to climb the Moleta?" I ask. "Of course, this is our favourite" they say. So things look good, they know the route and I cannot get lost as long they are behind me.
Let us give a remark: if you walk alone and no one is around for a long time a simple injury like spaining may be dangerous. Usually one owns a mobile telephone which would bring the rescue. But I always forget about it and we have not switched to the Spanish provider.
OK there is no problem any more and I jump down the old trail of the pass Fortuny. If the stones could tell their story... Nearby there is the Finca Son Fortuny. But a dog barks there, so it is better to keep some distance, privado - you know?. The step-up leads to the right up the slope. Heaps of stones are helpful again. Now and then one should add one or two stones, so the successors will be thankful. After some time I reach the ridge and now the giants of the other side come up. These are Esclop (926 m) and Galatzo (1026 m).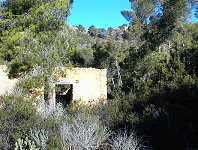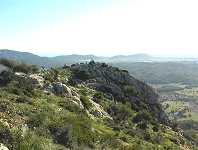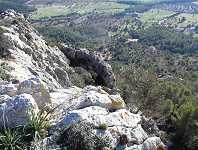 The last section to the summit, and then there is a phantastic view. I take a panorama of 270 deg. Meanwhile the companions come up and congratulate each other that they have done it. But remember, there are only 349 m height, this should be not so difficult, if the route was easier to be found. I ask "What's about the Galatzo?". "This is our most favorite" they say. For me this will be a challenge for a later stay.
At the way down I turn to the right for they told me that there is a path along the Rote Wand (Red Wall, Garaffa). At first I find a deserted hut of a charburner. But then there are broken trees and trunks and soon I loose the path and my orientation. You always may be above an unvisible abyss. But don't panic, it is the best to turn back and up again until I find the hut and the path. No further experiments. After 4 hours I am back. Moreover we have our walk in the afternoon once again up to the Esmeralda. So this was enough for one day. And finally we enjoy the sunset at the Hotel Mar y Pins.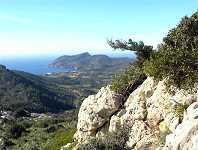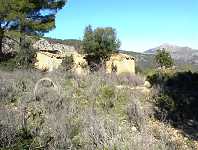 As a contrast to the hiking activities we watch a group of motor bikers in the hotel. Their outfit: big beards, braces, sunglasses and much leather. You may believe that the freedom is their property. So they walk like a sailor back from the sea. For me it is only to hobble today.
Thursday
A cloudy day - so what is to do yet? Let us throw in that we get to known with this and that longtime vacationist, who overcome the winter in this pleasant climate.There is an older gentleman at the table of our friend Peter (who himself certainly would prefer a younger victim). The old man is 89 years old. But he has his swim in the sea every morning. He is here for 6 months and is from Linz/Austria. Another older couple tells that they will stay for another 6 weeks while we already prepare our luggage for the return. So one seems to be old enough to get free.
Now let us walk, may be to Calvia? So we read the introduction in the Hapimag guide, whis not so promising:
...one comes to a private estate, and there it is allowed to pass only on Monday, Wednesday and Friday, at 9 am, 10 am and 11 am. Reservation in advance is required at the tourist bureau. You get a transit paper, the maximum number of hikers per hour is 20. At the market day the reservation times are booked soon...
This is a challenge and we want to find out what's about this matter. Very inviting towards the waste water treatment plant with a bad smell. Soon we meet a couple who had to return, after the driver of a jeep has sent them back. So we better return too and resign to pass the waste water smell. We turn into a stony path in the wood. We meet a group of hikers from the Hapimag. But these cannot tell more than we know already. So we follow the path, may be this is the so called "Valley of Nightingales"? It is a nice path, but then it ends at a high wire fence which winds it's way over hills and valleys (roller coaster). We know this sight from the former days of the iron curtain and the DDR-border - sorry!
We find a trail beneath the fence and then involontary hit on the road to Calvia. There is this mysterious private estate on a hill and its name is Finca Tora. And the landscape is nice here, green fields, hedges and almond groves. The road finally winds uphill. Ahead there is gentleman with a stick, walking as if he inspects his forest possessions. We do what we can do best and look stupid. As we come near to the gentleman he at once declares: "Privado!" and then he takes his stick and simulates a gun shot. We stop looking stupid and change to understandable. May be they are hunting somewhere. We say "OK OK and "Excusee, Pardon and Sorry". What a pity, that this beautiful area cannot be visited by normal human beings. But it is obligatory to respect the private interests.
On the way back we soon meet the Hapimag group and tell them our story. So they return too. And so at last we really enjoy to pass the waste water institute. Back in the city we really detect the sign, that this road is forbidden. Now we are lazy and nothing happens during the rest of the day.
At the evening buffet things get exciting. Our couple from Weimar had their last day and went to Palma. There they have entered the Red Flash to Soller. And now they come back with a face like seven days rain (as we say in German). Did we something wrong to them? But then Mr. S. cannot hold himself: "They have stolen everything, the handbag with money and passports, everything". They had waited at the bus station at Palma. Mr. S. has entered the information bureau. Mrs. S sat on a bench but stuck her nose into a plastic bag with presents and souvernirs. As she emerged again, the handbag has gone. She did not notice anything and neither did the passengers around.
This is a bad thing but the following is worse. The police is incompetent, they recommend a telephone number in Madrid. How to call there without money? Another tourist woman wa friendly and gave some mone to phone and to pay the bus return. In Madrid they don't speak any German and a poor English as our unfortunate companions do. Now they are totally knocked out and say "Never again we will come to Mallorca!".
Peter from Berlin tells some more stories, that a drunken lady was "sexually" - as he says - raped and a girl was stalked at the beach etc. But we know Peter meanwhile and have learned, that his stories vary from time to time.
Friday
The couple from Weimar will leave today and we say our pity to them when we say farewell. Just then two girls come along who want to go to Palma. Their handbags hang down from their shoulders. They are trounced by all participants of the tragedy of yesterday. So the girls go back to their room once again and arrange their things. When they return they look like child-bearing with their things under the jackets. In the evening we hear, that nothing evil did happen to them in Palma.
This last day we are lazy. In the afternoon Heidi visits a barber, which is a German lady. Meanwhile I buy some wine and when I come back to the barber it's my turn to get the hair cut. This is rape too, but no sexual one. And it is quite interesting to talk to the lady. She lives since 28 years with her husband, who is an interior designer, in Capdella. The haircut succeeds and at last we get an orange from their garden. The best orange we ever had.
Saturday
Now the story is over and we had two very nice weeks. We envy the long-time vacationists who - as they say - run away from the Christmas stress at home with their children, grandchilds and this nasty rack of the christmastree. For this time we will stand up to this and at Sunday afternoon we are back in the grey and cold November climate.
(There is a collegue who is married to a Spaniard. He has lived in Sevilla for a while. And he tells, that after some time of this hot and dry climate one desires to live in the grey and cold November again. But we don't have this experience until now...)

---
Back to the Home Page
Back to the Index