---
Back to the Kapitel Seite
All pictures of this chapter
Chapter 2
Wed 3.5. Ingrandes - La Roche 127 km: Change of wind and weather
We do not sleep too well this night. In the morning there is nothing new, Rainer will go to Ancenis to buy roadmaps and to think about the next section of the trip. As we leave he says "So we will have two trips to tell about".

So read the continuation of our tour, there will happen this or that of interest as well. Thomas and I enter the bridge and continue at the left shore, Rainer prefers the right shore of course.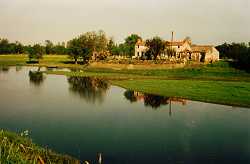 But we are paid back by fate, the weather and the direction of the wind have changed. After 10 km headwind we have a rest in St. Florent. At a little park you have a nice view above the valley. A man with a dog speaks some English. So we learn, that it will rain in the afternoon.
Some time we go on in western direction in sight of the Loire. I now find out, that Thomas is faster than I, so I hang on his back wheel to avoid some headwind. At Champtoceaux we figure out the next route. The wind forces us to the south, so we will have the wind from aside. We find some small roads and buy some food before. Thomas buys a large bottle of milk, but he must drink it all alone for I run away from milk.
As we thought to have flat land again, so this was on the road map only. Up and down we pass a hilly countryside. Some vineyards with plants not higher than knee-height. We wonder, where all the vine comes from.
The impressions of this part of our route are not sensational. We pass through villages which seem to be of the typical French provincial character. We have the next rest on a bench in front of a nice church. There is a monument remembering the World Wars I/II. Such a monument looks patriotic: a dynamic soldier on his march to honors - or so. The names of the victims of those honors are to be read at the stone below, carved and in gold... At some larger towns you find some hundred names of the first and half as many of the second War.
You hardly can understand today, that those two wars could happen within civilized nations and neighbours. And do not forget the war 1870/71.
Suddenly Thomas runs into a small restaurant. Highest step of alarm: the milk of the morning strikes up to find it's way. Cross the kitchen to the backrooms and anything runs well. With relief he comes back.
Further on the way south we remember: a meadow full of young turkeys, a large pine tree, flowers named Affodil, I know them from Mallorca. Sometimes an orchid, but I miss to photograph.
Finally we reach the town of La Roche sur Yon, where we will stay tonight. A shop of sport-wear is entered first, but again I don't find a suitable bike-shirt. At La Roche there is a big rectangular marketplace. The streets run as on a chess board. In a smaller street we find a simple hotel for our accomodation.
The evening ends in a Pizza-restaurant. There is only one more table with guests and they dine, as we enter the restaurant. As we leave, they still dine. So we discuss the German and The French dining culture.
Wed 4.5. La Roche - La Rochelle 90 km: Towards the Atlantic
It was a rainy night and there must be no hurry to start this day. We get our petit dejeuner in a room somewhat like a cellar. We walk in the town afterwards to look around, but I cannot find a bike-shirt anywhere. Soon no more attractions are to be found and we start.

Soon a heavy rain comes down, but we can enter a near-by Bike shop. I do not tell you now what I am looking for. But I don't find it. Thomas buys a new bottle cage after all. The rain stops and we can continue and find our way on smaller roads. Everything looks fresh and green after the rain. But the next one soon comes and we just in time find a barn behind a house at the right moment. A lady comes out from the house, but she kindly nods at us, so we feel to be allowed to stay here for a while. As we look around, we observe cupboards full of bottles with a unknown liquid in them. As well we see tools for bee-keeping, on the meadow outside we see some beehives. May be they produce something mixed from vine and honey. Though the occasion would be fine we do not grasp at a bottle to find out what's about it. Sure!

Finally the sun is shining and in excitement we come nearer to the coast of the Atlantic. But we still have to wait a long time, we find ourselves sticked at a swamp area and have to return all the way back to the road.

At Lucon we find a nice restaurant. There is a monument of Richelieu at the place in front of the church. We try to remember our historical wisdom, Richelieu was a Cardinal and used to wear a pointed beard. But at the monument you can read all about it: at the beginning of the 17. century he was Bishop at this place.

The last distance of this day is difficult. A strong wind from aside on a dead straight road. The area is flat and monotonous, though we just pass the "Parc Regional de Sevre".

We enter a quiet road again and finally get a glance of the Atlantic far beyond. But the brown color of the waters is disappointing. We reach La Rochelle, no problem to find a hotel for much tourism is around here. We choose the Hotel de la Paix just at the center.

It is early in the afternoon and all shops are open. Instead of a bike-shirt I buy a new bracelet for my Swatch watch. Thomas as well, the color of the bracelet must be purple - not available in Germany - he means. A German newspaper can be bought too. Ayrton Senna, Grand Prix racing driver has just found his death. All title-pages of the newspapers show him laughing and happy.

At La Rochelle you find many historic buildings. We look around at a former fishmarket-hall, nowadays it has changed to a cultural center for art exhibitions and an art-cafe. A modern roof of glass is spanned above this all.

We reach the harbour, the wind blows strong around the corners. In former times the entrance of the harbour was guarded by two huge towers, they even used big chains in the entrance to prevent attacks of pirats. This was a great danger at this area.
The guide book also says, that the town was besieged 15 months long at the year 1628. 5 of 6 inhabitants died by starvation. And who was the conqueror: our friend Cardinal Richelieu. May be they do not dedicate a monument to that person at this town.
Near the harbour there are numerous restaurants offering maritime specials. You can peer into the windows and see the festive tables waiting for a busload of tourists. Sometimes you see a buffet full of crabs, crayfish, oysters and other mussles etc. They have a good price for such orgy, so we stay out of it. We look for a Pizza-Restaurant and find it.
There are no tourists but youngsters and native people. So you feel like an expert of local gastronomy. Of course my order is "Pizza Fruits de Mer". Thomas tries some mussles and gets to know some sand of the Atlantic.
Thu 5.5. La Rochelle - Saintes - Morcenx 90/223 km: Travel and Train
The weather is worse this day, we have an icy cold wind of a typical Atlantic depression. We run 35 km to Rochefort and feel very cold. We enter the market hall to warm up there and buy some food. Most of the goods here are not to our taste: pork and beef, bloody red flesh of horses, heads of sheep, naked chickens but with head and legs etc.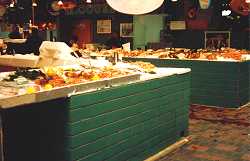 Outside of the hall there is a market too, you could enjoy it more if it would not be that cold. At a place in the center we find a cafe built of glass. The waiter is somewhat irretated, for we only want to drink a coffee though it's dinner time. Hastily he removes glasses, knifes and forks and the basket with bread from the table.
We have a discussion about the continuation of our trip. It is Thomas' opinion, that the next section along the coast is not as attractive. So we find ourselves at the railway station. But we cannot find a proper connection by train to the south. We decide to go on by bike until Saintes, where the main route from north to south passes.
At Tonnay we cross a high well aged bridge over the river Charente. This bridge is closed for motorized traffic, for you can see the fresh air between the wooden boards at the floor. You have a nice view up there. At some distance a ship seems to glide between the green meadows.
The further way through small villages is nice, we have a modest sidewind. We take a rest behind a church, at it's tower there is a strange figure looking like a rocket.
In the afternoon we arrive at Saintes. We enter the railway station and find a train to Bordeaux and then further on to Morcenx, deep in the woods of the area named "Les Landes". We would arrive there at 22 o' clock. But no one knows, if there is a hotel. Thomas doesn't bother, but I do. We buy the tickets, transport of the bikes is free.
We have one hour until departure and take a look in the town. The bike-shops still have their fascination concerning a bike-shirt, but they all are too flashy coloured. Saintes is an ancient town, rests of Roman culture are to be seen on the postcards. We enter a cafe.
Some time later we stroll around again. Thomas suddenly panics - his bag containing money, passport, cheques etc. got lost. Back to the cafe in a haste - someone has delivered the bag inside the cafe. "WHOUGH"!
Now it's time for the railway station and we enter the train. There are seperate cabins for the bikes. Two hours later we arrive at Bordeaux, the red sun still shining in the evening. We now have another hour to look around. We find a larger place, there is a big arch, we have to read anywhere what this would be.
Aside there is a Mac Donald's restaurant. You can choose among different Macs and what kind of dressing you prefer running from your chin. And the amount of garbage is considerable, they need extra large waste containers. One chief of a 5 headed family has his work to manage the overwhelming masses of paper plates and cups, plastic spoons, serviettes etc.
We go back to the railway station, passing some one-way streets in the wrong direction. The train is waiting already, we prepare for the last section of the day. We pass the endless forests of Les Landes. Sometimes they try to cultivate large areas for agriculture.
It gets dull - then we reach Morcenx at darkness. The place in front of the station is a torn desert. We ask a grinning man for a hotel. "Hotel, Bar, a gouche, ferme" that's all we can understand. We translate this to: turn left, there will be a hotel and that is closed.
And so it is, there is a hotel and the door is closed. But we can see some light inside and push at the door. We hear a man coming nearer and then he opens the door with suspicion. But hotel-robbers rarely come by bike, so we are accepted and happily enter a room. We even find a shower bath. Only the flush of the toilette is a strange construction but we cannot discuss this here.
Fri 6.5. Morcenx - Biarritz 115 km: Summer again
Bright sunshine and a blue sky without any clouds. You can regenerate. At the bar of the hotel we enjoy a fine petit dejeuner. Now a figure appears at the entrance, his name is Domenique and we recognize him to be the grinning man from yesterday. He knows us as well and single-minded heads towards us. Now a cascade of words comes over us, we do not understand but know what he wants. We say "Oui, oui" and "Merci, merci" but Domenique is waiting for a bakschisch. Finally he sits at a nearby table and drills in his nose.
We start into the bright morning end the endless woods. No roaring traffic but all silence around, the bikes roll along under the trees, that's it. At a bent creek there grow luxuriant lilies. All facets of green colour around. Small houses of people who like to retire.
At an open area in the forest we watch the top of a pine tree shivering, then it falls down and with a crash strikes the ground. Some time later we see some workers at a young tree preservation.
Amid the wilderness we hit the N-10 (National route), the artery of tourists on their way to the south. After some km we can enter a country road again. At Leon we visit a lake, where Thomas and his family have spent a holiday some years earlier. Furtheron I learn all about land and folks around here. At the marketplace of Leon we enter a nice cafe with an even more nice waitress.
We now have reached the tourist area of the Atlantic coast. Fortunately they have built a long bike trail through the woods. Now you can ride there very comfortable, but at the main season this will be a crowded road of ants.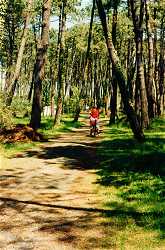 At Messanges Plage we meet the Atlantic for the first time and see the beauty of the beach. The waves roll with white foam one after another as far you can see. And in the south you see: the Pyrenees, blue in the haze.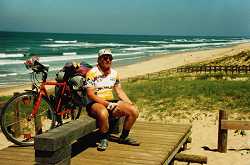 We head on to the south and come near to Hossegor. Districts of appartement buildings, but they have not more than 3 stores and the architects have avoided to build those ugly skyscrapers. But you can imagine the crowded tourism during the main season. At Hossegor there is a wonderful blue lake. They just flush a black mudd on the beach, this should turn to grey and white sand later. So we imagine.
We enter a cafe, it is more expensive now by the tourism. At a nearby table we watch a young guy who is seriously injured at his face by a fire accident. But he seems to be happy and enjoys cigarette and sunshine. We get thoughtful about this.
The next aims are Bayonne, Anglet, and Biarritz, nearly one big town altogether. We cannot avoid the roaring traffic. We take a rest at a supermaket, there are cool rooms and we get a coffee.
At Bayonne we enter the picturesque original town. Out of the labyrinth of streets we reach a hill with a light-tower high above Biarritz. Below there is a nice beach and a bay, but they have built an ugly hotel there.
We try to get our accomodation at a hotel near the golf course. The first and last time during the complete tour we fail, they do not want us for one night. We seem to look like persons for a cheaper lodging.
So we run down to Biarritz and 10 minutes later we have our hotel just aside the church in the center: Hotel Antalayes (**). As we are fresh again we look around at this famous town.
The attraction of this area are the cliffs at the shore. You enter stairs and bridges to reach several panoramic views. At the highest top there is a monument of a Madonna. A fence prevents climbers of entering the statue.
Below at the water a group of divers clothed in rubber is involved in a discussion about their stuff and equipment. "That is briefing" Thomas adds. We finally find a Pizzeria with a nice view to the sea. The sun goes down at the horizon, partly covered by a traffic sign (dangerous right bench). Some cabriolets show themselves at the parking place.
We return to our hotel and the room with WC, bathtub and bidet.
Sat 7.5. Biarritz - Cambo 45 km The Rain
In spite of the nice weather of the last day it has changed again. It's grey and we roll through the heavy traffic on the National Route to St. Jean de Luz. This port is more romantic than this elegant flair of Biarritz. In the harbour there are the coulourful fisherboats, a scenery of wooden houses behind. We look around at this nice place but forget to visit the baroque church (guide book).
At the market hall we buy a bag of crayfish, they are greater than crabs and give more flesh. Between fishernets sitting on stairs at the harbour site we enjoy our meal. Then the rain chases us away into a cafe.
Now we have to sit there more than two hours and look out of the windows to the pouring rain. After a while we have 4 cups of coffee and pay a lot for it, a rainy day is expensive.
At 3 pm we cannot wait any longer and start towards the mountains hidden by fog and clouds. It has stopped raining for a while. Grey mist around us, nothing to be seen of the Pyrenees.
Nearly no traffic, no one seems to be eager to make an excursion today. Rain begins and stops, so we have to put on and off our rain suits. At a descent the green rainsuit of Thomas flutters on the road. I pick it up and he is happy of my social engagement, he was not aware to have lost it.
At a village we look for a shelter of the rain. Two heavy loaded bikers, a married couple, comes along, a trailer with two children behind them. We won't change.
Now will happen a malheur. I usually like to start from a rest earlier, for Thomas prefers a faster pace and will be soon behind me. So I do this time. But always I look back, no one does appear. I climb up a steep hill and look for a shelter again. I consume half of a baguette, but nothing else happens.
What to do now? I have to retreat, down the hill and all the way back to the last rest. And there he sits at a bus stop and waits for better times. He did not notice my departure and looked for me inside this village. And then he waits. OK - no trouble about that. With the pouring rain we reach Cambo, the last place for today.
We find the Hotel Bellevue. The host is very friendly, we cross the hall with our wet dripping bikes and deposit them in a garage. Then we feel fine, the rooms are warm, we have a hot bath and feel like human beeings again. And the rain is pouring outside all the time.
We enter an elegant dining room.Thomas is satisfied with a soup of fish, but I order a menu. At first I have to manage a black coulored pulp of a octopus dish, I feel somewhat peculiar. The main dish is undefined as well, some hollow garbage of this district - never ask me about it´s name. But every biker knows: be hungry and it will taste well.
During the night the rain stays splashing on to the windows.
Sun 8.5. Cambo - Oleron St. Marie 115 km: Where are the Pyrenees?
May be the rain has exhausted itself today. The sun seems to be anywhere among the mist. Before we start we look around at Cambo, many hotels, restaurants and pensions seem to wait for tourists and a fine weather. At the place in front of the church there is much folk, it seems to be a special day, but we will find out later.

We choose the motto "The Valley is Green" and start. We accompany the river Nive, high water today. And the hills are green, a meadow full of sheep. A railway trail beside the road leads into the valley. We hear one shouting from below, and there they are: rubber boats rolling down the floods. We watch someone falling off the boat, but they soon catch him again.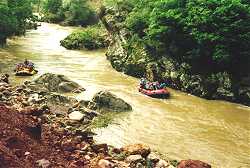 At the surface of the road we watch many frogs, toads and lizards flatted by the motorized traffic. We pass a narrow valley at this location. Finally the valley gets wide again and we reach St. Jean Pied de Port. We now are at the center of the Basque district, you get notice of the typical caps of the natives. A music orchestra comes up, crowds of people jam the narrow streets. We fail to speak to an individual, he does not understand what we say and we do not understand his words. So we stay to figure out what this this special day could be.
We enter an original restaurant. nothing unusual with the cheese sandwich and coffee. But more and more inhabitants come inside, all wearing those typical caps (basque). Two of them have a half of an ear only, may be they are victims of a strange custom. They all handle bills and bet sheets for horse races, where ever those may take place.
We order a plate of olives to be original too. Then we head on, the first pass is waiting: Col de Osquich, 500 m at it's summit. We have to climb up 400 m. So we do, Thomas is working hard with his racing gears. Finally we reach a restaurant and think to have made the summit. But there are two more km to climb. A nice view up there - then the descent again and the brakes get hot.
We never see the highest mountains of the Pyrenees, to many clouds around. But you can guess some snow covered peaks. We reach Mauleon Licharre and enter a baker's shop. Hungry we consume some pieces of cake.
Now we complete the final section of the day to Oloron St. Marie. There is a famous church (guide book) but we look for a hotel rather. We find Hotel Bristol. As this hotel was not as fashionable but clean we now must assure, that we always had a clean and comfortable accomodation. What they sometimes tell of South Europe, we cannort agree. We always had a pleasant hot shower bath.
So in the evening we sit in the bar at the street and enjoy. One inhabitant seems to have had a tiring day and gradually grows smaller behind the bar. We still discuss the reason for music and flowers at the war monuments, as we watched today. Thomas says there could be the end of World War II this day. But I think of August. Meanwhile I have looked up at a dictionary: On 7. May 1945 the General Jodl hat signed the total capitulation of the German army at Reims.
Mon 9.5. Oloron - Lannemezan 115 km: Something Religous
As at last monday I fail to enter a bike shop in the morning to buy my bikeshirt. We enter the bridge of the river Oleron and guess, how they managed to build the houses just into the river. And there still live people in those houses!

Now up and down a while and then we reach the valley of the river Gave du Pau. At a rest aside the road, we watch a couple of rats running in a deep hole at the site of a lost petrol station. We pass the Grottes de Betharam, a famous system of caves. The touristic attractions of this area are: caving, climbing, canoeing and river rafting, mountainbiking, paragliding.

At noon we reach Lourdes, in prospect of a great impression. The twin town of Lourdes is Tschenstochau in Poland (Black Madonna). May be the chiefs of those towns agree how to get the money out of the pockets of the pilgrims.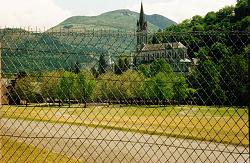 At a fence we find an open gate leading to the sacred site. There is a grotto and in the year 1858 a lady named Bernadotte is told to have seen the holy Mary (mother of Jesus) there. Many pilgrims are strolling around, their bright eyes tell, that they believe in all that. Many devote in singing chorales. It is told, that people unable to use their legs have been cured by the mere glance of this place. So one can rent wheelchairs within an assistant to be pushed around.
I put on my jogging pants to look well mannered and enter the grotto myself. Excuse me, I get angry by the obversation of the fanatical folks. They kiss the rock walls. A woman has a basket of bread and rubs the bread against the boulders, what for? Others light candles and put it to a pyramide, a special employee has to maintain the growing pyramide.
Above the gotto you can see a wire bearing those crutches of cripples, who left this place jumping around. And at Lourdes they have an office to attest such kind of a wonder. You have to present an attest of your uncurable sickness. And if you are cured, you must present a new attest to be member of the hall of fame.
We feel strange about all this. We do not understand the officials of the catholic church who tolerate this. But Money makes the world go round. Aside you can watch the water taps, where they fill their bottles with the sacred water. Of course you can buy those bottles in shape of a Holy Mary statue.
They seem to be able to read our mind. A guard appears and declares, that no bikes are allowed here. "But they run around in their wheelchairs", but we should not make jokes on this. They come to this place in hope and should not have to be blamed for this "Abacadraba". They saved their money to come here. In obediance we leave this place and finally meet a singing group of Irish pilgims with their banner and a priest in front.
We are happy to have found the unclosed entrance before, otherwise we would not have the occasion to see all these things. Now we enter the mile of souvernir shops. No one would imagine the kitsched objects you can buy at those shops one after another. We finally end at a baker's shop.
We go on to Bagneres di Bigorre. We have to climb and descent in change this afternoon. We pass the old Abtei d' Escaladieu (12. century). Up on a hill we reach Mauvezin but cannot find a hotel there. So finally down to Lannemezan.
Now the wonder of the day comes over. I now can release the reader from my trouble to find a bike shirt. It is red as my bike and is half as expensive than those at home. We find a hotel as well and have a nice evening in the restaurant again.
Tue 10.5. Lannemezan - St Girons 95 km: The Best Day
The best day is waiting for the weather is fine and the landscape beautiful. No clouds at the sky and a wide view to the green and white mountains.

Flowers erverywhere. Nearly no traffic on the roads. Up and down of course as usual, sometimes we take a wrong road and have to go back. But as we say: the route is the goal. Thomas thinks about today and says "You should preserve all this in your mind, recallable at every time." (This is why I write all this stuff). We keep on enjoying everything.
We pass the cathedral of St. Bertrand, majestic on a hill. And they have digged out walls and foundations of a Roman village at this place. It's name was "Lungdunum", sounds like a location of "Asterix".
At Aspet we sit at a cafe on the sunny square. Some sandwich and salade. At the table aside they drink some bottles of red wine and soon are knocked out. At the square there is a war monument again, a stone sculpured soldier ready to throw a grenade.
We reach the river Salat and go towards St. Girons, some snow covered mountains of the central Pyrenees in front of us. We stop at a baker's shop and watch some older strange looking people. Then we find out: there is a senior's home nearby.
Suddenly Thomas rushes up a narrow street and I try to follow. As I reach him I ask, what this is for. "I thought to be a cafe here" he answers. But we only find the walls of a fortress, resign to conquer it and have to turn back.
We now end at a cafe under plane trees at St. Girons. What to do next. The next section to Foix is more than 40 km on a main road. We decide to stay here for the night and find a hotel. Some minutes later we have a room, a balcony, and a view to the river below.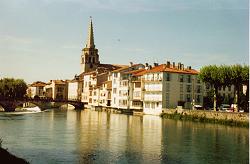 We stroll around at the town and end in a restaurant with a roaring television. The locals watch a soccer game in concentration. The pizza from the microwave is not fine. So we watch the soccer game too, semi cup final Bordeaux against St. Etienne. May be it was 2:0 for St. Etienne.
Wed 11.5. St. Girons - Limoux 125 km: How to get Home?
In the middle of the Pyrenees Thomas occurs to the idea to find out a way to go back home. His wife Marianne has her birthday at the next weekend. Two weeks as "God in France" will end one day. We enter the tourist bureau at St. Girons. A nice lady understands English and calls the rail information. They figure out a connection Carcassonne - Nimes - Strassbourgh etc. The sheet of paper with the notes looks somewhat chaotic but is thoroughly kept in the baggage.

With relief we start for the day. My vacancies are one week longer and I make my own plans.

We now manage the 44 km to Foix. There is no side route, we have to climb the Col du Boich, 739 m. But it is easy to reach and after a fast descent we reach Foix. There are three impressive towers of a fort. There is a historic backgrond from the year 1244. Disloyal members ( Carthaics) of the Catholic Church were besieged over months and finally found their death beeing burnded.

We stroll around in the narrow streets, find a baker's shop and rest in front of the church. Unfortunately there is not enough time to study all about this wonderful town. We rush downhill and miss the junction of the side route. But we can find another one, at Laroque we join the planned route again.

Dark clouds come up but we must head on. We have a tailwind and reach Chalabre without rain.
But as we climb up to the summit of our last pass of the Pyrenees, the Col de St. Benoit, 614 m, rain comes down for a while. At the descent I have to wait again, for Thomas does not like too much risk. My highest speed is 57 km/h but in most cases you do not find the paving and forward view to run as fast.
The destination of the day is Limoux, we see it far ahead already. But now the rain comes down in a cloudburst. At Limoux we push the bikes on the pavement and look at the gurgling drain. At a narrow street we find a hotel but it is a mere building site inside. The hosts seem to take pity on us dripping wet figures, they say we can stay and they lead us amongst the craftsmen, broken walls and an uncomplete staircase. We enter a room, may be a hundred years nothing has changed there.
And some things are really funny. There is a single WC at the center of the etage. You have to climb up some stairs and then sit like on a throne. You wish to make a speech to the world from there. And when you close the door the room is lighted by a contact switch. And we can have a warm shower bath. That's it.
As usual I regenerate inside my sleeping bag. I never got a friend of the French sheets and blankets, where you are pressed between the layers of some covers. The bed this time lacks in one leg but they have put a sausage can under it. But we feel sad, you will never find this hotel in it's present funny state.
After we have regenerated we find a peculiar restaurant at the central square. The ceiling is made of stucco (gypsum). Mirrors everywhere, an atmosphere like during the 20th. You always see yourself anywhere and try to stare into another direction. The TV is unavoidable. At a table nearby some inhabitants play cards, but we can't find out the rules.
Thu 12.5. Limoux - Carcassonne 30 km: Departure
Early in the morning the craftsmen start to rumble inside the house. We have our breakfast at a bar at the central square. Then we cross a bridge and head to Carcassonne on a side route. We have onother public holiday today - I cannot find the name in the dictionary, so I say "Jesus' Rise to Heaven", "Father's Day" in Germany (Ascension Day of course...).

We more and more meet bikers in their racing dress rushing along. We only meet one family on their bike tour, as we know it. The French biker is a sportsman. Remember the most famous bike race of the world: the Tour de France.

The fields are steaming from the fog and rain of the night. The Pyrenees flash white from behind. There seems to be snow down to 2000 m. We go to the north and say farewell to the Pyrenees. But in front you see the next mountains named Montagne Noir and Haut Languedoc. I sharpen the knife in my mind.

The sensation of Carcassonne is the "Cite", the middleaged upper town. Surrounded by huge walls and towers tourists find their attraction. Busses from all Europe meet at the car-park. We listen to a guide who leads a group and speaks German. He tells the French cemetaries to be built of stone and flowers dry during a hot summer, the ramparts below the walls were full of water in earlier times and so on. So we learn a lot but go our own way.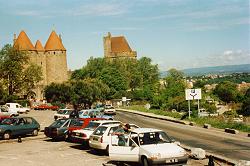 We wander around in the twisted lanes. Souvernir shops everywhere. Nice restaurants as well but we can try one only. The instruments of the WC are built of brass(?) at this location.
At last Thomas has to go for the railway station. On the way he tries to contact a German bus crew (Sauters Reisen). "Hallo Sauters, I want to go home". But they say they won't go back to Germany now. So we have to settle the affair at the railway station. Difficulties in understanding, the official rejects to speak any English and German the less.
Some time later we find two officials ready to help. One of them seems to have had already a drink ore more today. So they hurry up to throw Thomas' bike into a train towards Paris-Austerlitz before he paid his ticket.
So we say good-bye, Thomas fumbles at his baggage and I disappear around the next corner - the games will go on.
---
Back to the HomePage
Chapter 1

Chapter 3